Our footbags are catching on (aka hacky sacks).
Grab yourself an It's Ridic, hand stitched, quality footbag for a fun solo challenge.  Once you have it down, invite your friends to stand at a distance of 6 ft ;) and kick the bag back and forth.  Footbag is an excellent way to relieve boredom inside or outside and improve your foot-eye coordination!  Hacky sack is a small, easy to carry around game you can bust out just about anywhere.
Click here to learn more about the game and what we offer.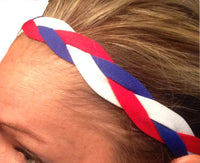 Perfect hair accessory for all sports!
Find the perfect match to any outfit or team uniform by choosing from over 100 color combinations.  Perfect for volleyball, basketball, soccer, softball, or even cheering on your favorite team from the sidelines.  Get an IT'S RIDIC! braided headband with silicone grip today!
Shop Now
Unique Gifts, Fun Gadgets, Women's Fashion Accessories, Pet Supplies + More
 IT'S Ridic! is a unique online store offering a variety of items at low cost with Free USPS First Class mail shipping in the United States. 
Shop smart and save
We are happy to work with you to get items you need at prices you can afford. 
Feel free to "Contact Us"  with any questions or requests. We will do our best to serve you.
We only sell items we love to use and hope you find things you love as well. Make every outfit pop with any of our women's fashion accessories online. As our journey goes on, we hope to continue to offer our signature women's athletic headbands and many more great products.
Use the link below to see what we have to offer today.
Shop all items Now